Our experience and know-how are combined with deep understanding of all aspects of the tuna business and a full grasp of the latest developments in tuna fishing, processing, distribution and marketing. Together they bring a unique blend of advice for our customers and our suppliers.
With our customers we aim to develop a complete understanding of their tuna business, its constraints and challenges, its targets and ambitions. Together we cooperate to achieve commercial, environmental and social targets.
With local fishing companies and processing plants we develop new sustainable tuna fishing projects in different oceans. Below you see a map of all the major tuna landing ports around the globe. In a few we are already active, and we hope to expand to many more in the future.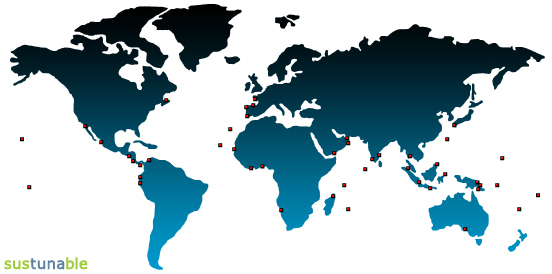 Sustunable offers end-to-end supply chain management. We make sure that your tuna gets delivered in time. Through our on-line logistic system our customers can constantly monitor the progress on the delivery of their orders, and can always verify by which fishing boat, captain, and through which responsible fishing method their tuna is supplied.
Sustunable commits itself to give its customer at all times full support and advice in their communication about sustunable products and the related environmental and quality issues.

Sustunable aims to obtain independent certification of compliance of its principles and the level of its services by internationally recognized surveyor organizations before the end of 2008.
We communicate and work cooperatively with authorities and environmental interest groups such as Greenpeace, WWF and others at a local and international level, towards a sustainable tuna supply.