All our tuna products are prepared to have the best taste and quality, and to preserve all the natural advantages that natural wild tuna and ocean eco-system can provide us.
Our tuna have swam thousands of miles in the clean open ocean, by which it gets the best taste and the lean and tender muscular structure that makes its meat so desirable.
The tuna is either frozen or deep chilled within minutes after the catch to ensure the highest freshness and quality and to preserve the best of its taste.
In order to ensure the highest level of quality of tuna – the on-board handling straight after the catch is probably the most important part of the quality process.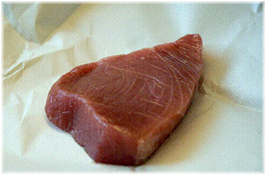 ONLY

Wild Free Swimming tuna caught in the open seas will be used – tuna feed on what the oceans eco-system provides them.

ONLY

100% Pure Natural and Honest Ingredients – such as salt, water or pure oil will be added to the products we supply.

ONLY

GMO-free ingredients are good enough.

ONLY

mature tuna, which have a firm meat and a high omega 3 content.
NO

farmed tuna or tuna from aquaculture will be used for our products.

NO

tuna which has been fed on man-made feed and antibiotics.

NO

additives such as vegetable extracts, HVP, HP, xantham gum etc will be used be to enhance the water content and the weight of the tuna meat.

NO

preservatives will be added other than pure natural salt.

NO

taste enhancers.

NO

colorings, bleachers, carbon monoxide, clear or artificial smoke have been applied to enhance the natural color of the tuna meat.

NO

baby tuna – which have more tender and juicier bite and a lighter or whiter meat color – is acceptable.

NO

genetically manipulated materials are used.